Kiko Matos: 'I just want to teach Baron Geisler a lesson'The indie actor said his notoriously abrasive colleague had started the fight by pestering the band performing on stage.
Joma Sison to grace premiere of new biopic16-May-29, 1:11 PM | By Edwin P. Sallan, InterAksyon.comBesides peace talks with Duterte, the communist leader is looking forward to see Arlyn dela Cruz's 'Tibak' (The Story of Kabataang Makabayan)'.
Bosnia pays tribute to David Bowie with vast mural16-May-29, 10:49 AM | ReutersThe mural is meant to commemorate the British musician's humanitarian work during the Bosnian war.
WATCH | Baron Geisler involved in bar fight with Kiko Matos16-May-28, 6:40 PM | By Edwin P. Sallan, InterAksyon.comAnother viral video has actor Baron Geisler involved in a brawl. This time, he appears to be the victim of an attack from another actor.
Gawker privacy lawsuit evolves into battle of tech billionaires16-May-28, 1:51 PM | By Sarah McBride, ReutersPierre Omidyar of The Intercept publisher First Look Media is backing the website against Hulk Hogan supporter Peter Thiel, co-founder of PayPal.
REVIEW | The cult of the god-mutant vs everybody else in 'X-Men Apocalypse'16-May-28, 12:03 PM | By Karl R. De Mesa, InterAksyon.comWith too many heroes and villains in one movie, 'Apocalypse' is a mess on paper and it's a mess of a narrative onscreen. But it is a joyous mess.
Nyoy Volante, Yassi Pressman lead PhilPop 2016 interpreters16-May-28, 10:09 AM | By Edwin P. Sallan, InterAksyon.comThe other interpreters are Jason Dy, Itchyworms/Banda ni Kleggy, Monica Cuenco, Cooky Chua/Bayang Barrios, The Juans, Joan Da, Kenjohns, and Ramiro Mataro.
Filmmaker pays homage to Gaza with biopic on singing hero16-May-28, 9:56 AM | By Shaun Tandon, Agence France-PresseEntitled 'The Idol', the movie is the first feature-length motion picture to be shot at least partially in the Palestinian territory in two decades.
'Glee' star Mark Salling indicted on federal child porn charges16-May-28, 9:29 AM | By Alex Dobuzinskis, ReutersThe 33-year-old actor has agreed to turn himself in on June 3 to face the charges filed in federal court in Los Angeles.
Amber Heard accuses Johnny Depp of domestic violence, gets restraining order16-May-28, 9:19 AM | By Piya Sinha-Roy, ReutersHeard said Depp was abusive to her throughout their marriage, culminating in an argument on Saturday night in which he hurled a cell phone into her face.
'The Amazing Race Asia' announces casting call for surprise 5th season16-May-27, 3:12 PM | By Edwin P. Sallan, InterAksyon.com'Ten teams of socially savvy, fearless warriors from all over Asia' will compete for the USD$100,000 (or roughly P4.6 million) grand prize.
Justin Bieber is sued over riff in smash hit 'Sorry'16-May-27, 8:06 AM | By Jonathan Stempel, ReutersAn indie artist who performs under the name White Hinterland, accused Bieber of infringing her copyright to the song 'Ring the Bell'.
Tom Rodriguez considers new film 'Magtanggol' an eye-opener on plight of OFWs16-May-26, 11:06 PM | By Edwin P. Sallan, InterAksyon.comThe actor stars as a crusading senator who cares deeply about the abuses suffered by overseas Filipino workers.
Johnny Depp's wife files for divorce16-May-26, 2:46 PM | Agence France-PresseActress Amber Heard cited irreconcilable differences after 15 months of marriage to the Hollywood star.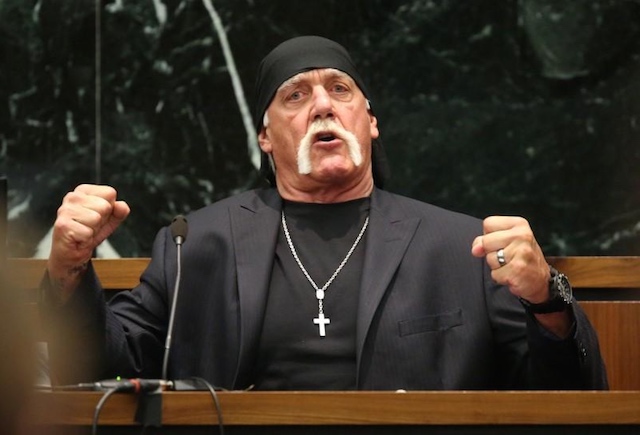 Florida judge denies Gawker new trial in Hulk Hogan case16-May-26, 7:58 AM | By Letitia Stein, ReutersThe media website's bids for a new trial and a reduction of the $140 million in damages a jury awarded the celebrity wrestler were both denied.
New Jay Z rap mentions marital issues with Beyonce16-May-26, 7:51 AM | Agence France-PresseThe hip-hop mogul offered a verse in a track released late Tuesday by fellow New York rappers Remy Ma and Fat Joe.
Pinoy rockers lead cast of Manila staging of 'Green Day's American Idiot'16-May-26, 7:28 AM | By Edwin P. Sallan, InterAksyon.comTwo RiverMaya ex-frontmen, Jason Fernandez and Norby David, Chicosci singer Miggy Chavez, and Wolfgang vocalist Basti Artadi headline the rock musical.
'Star Trek' at 50: Boldly going on… and on16-May-25, 11:06 PM | By Frankie Taggart, Agence France-PresseHalf a century after its launch, 'Star Trek' is a multi-billion-dollar cultural phenomenon adored by fans the world over, with a new movie set to hit theaters in July.
Robin Padilla, Mariel Rodriguez hope third pregnancy is a charm16-May-25, 10:11 PM | By Edwin P. Sallan, InterAksyon.comWith Mariel now three months in the family way, she and Robin are hopeful that this time they will be finally blessed with their very first child.