Cignal TV relaunches Colours channel with brighter, bolder shows for womenLeading the lineup is 'MomBiz,' hosted by Danica Sotto-Pingris and LJ Moreno-Alapag, who previously co-hosted TV5's 'Happy Wife, Happy Life.'
Cignal TV relaunches Colours channel with brighter, bolder shows for womenLeading the lineup is 'MomBiz,' hosted by Danica Sotto-Pingris and LJ Moreno-Alapag, who previously co-hosted TV5's 'Happy Wife, Happy Life.'
It's final and the reason is spinal: Angel Locsin loses Darna roleApparently, she has not fully recovered from the disc bulge in her spine for which she underwent surgery in late 2015.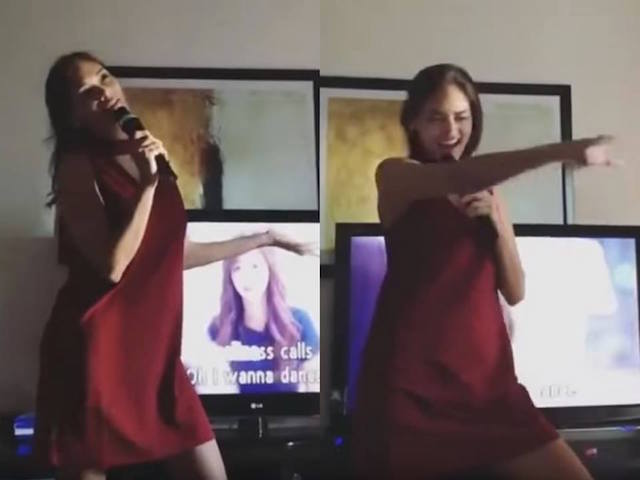 WATCH | Pia Wurtzbach belts out Whitney Houston classic for Marlon StockingerThe actress formerly known as Pia Romero is returning to showbiz after her memorable reign as Miss Universe.
'Beauty and the Beast' smashes records with towering $170 million debutDisney's latest live action update of a cartoon classic set a new record for a March opening in North America.
Paul McCartney making album with Adele's producer17-Mar-28, 7:01 AM | Agence France-PresseMcCartney said he was collaborating with Greg Kurstin, the American producer who co-wrote 'Hello' and who had also worked with Sia and Beck.
Wiz Khalifa and Pablo Escobar: a Colombian controversy17-Mar-28, 6:49 AM | Agence France-PresseThe 'See You Again' rapper left flowers and a joint at Escobar's tomb in Medellin on Friday, setting off a firestorm of criticism led by the city's furious mayor.
Drake ends Sheeran's Billboard 200 reign, smashes streaming record17-Mar-28, 6:32 AM | ReutersThe Canadian rapper set a new streaming record and brought home the biggest U.S. sales week for any album since his 2016 release 'Views.'
Lucasfilm lost sleep over uncanny resurrections of 'Rogue One'17-Mar-27, 5:05 PM | By Frankie Taggart, Agence France-PresseThe upcoming DVD and Blu-ray of 'Rogue One' explains the painstaking process behind the appearances of Carrie Fisher and Peter Cushing.
Media rockers The Pub Forties announce release of debut single17-Mar-27, 4:13 PM | By Edwin P. Sallan, InterAksyon.comThe Pub Forties are four veteran journalists from the motoring, lifestyle and entertainment beats who are, yes, in their forties.
Tears and laughter for Debbie Reynolds, Carrie Fisher17-Mar-27, 10:45 AM | By Frankie Taggart, Agence France-PresseFriends and family celebrated the lives of the beloved mother and daughter pair on Saturday, at the cemetery where they are interred side by side.
Cignal TV relaunches Colours channel with brighter, bolder shows for women17-Mar-27, 10:18 AM | By Edwin P. Sallan, InterAksyon.comLeading the lineup is 'MomBiz,' hosted by Danica Sotto-Pingris and LJ Moreno-Alapag, who previously co-hosted TV5's 'Happy Wife, Happy Life.'
U.S. Box Office: 'Beauty and the Beast' dazzles again, 'Power Rangers' off to solid start17-Mar-27, 7:38 AM | By Dave McNary, ReutersDisney's juggernaut has already grossed $317 million -- the fourth-largest 10-day domestic total ever.
Kendrick Lamar takes on Trump, Drake, other rivals in new song17-Mar-26, 8:01 AM | Agence France-PresseThe rapper late Thursday dropped 'The Heart Part 4,' a nearly five-minute track of rapid-fire rhyme led by an unadorned bass line.
'Random Girl' Zendee credits YouTube for continued success17-Mar-26, 7:40 AM | By Edwin P. Sallan, InterAksyon.comThe 25-year-old online sensation is is more active than ever in the popular video sharing site, where her channel has amassed over 25 million views.
WATCH | Brillante Mendoza tackles lesbian drama with 'brave' made-for-TV movie17-Mar-25, 8:25 AM | By Edwin P. Sallan, InterAksyon.comMercedes Cabral and Aubrey Miles headline Mendoza's latest offering for 'Brillante Mendoza Presents,' his monthly series for TV5.
No 'Love Actually' when Trump asked actress Emma Thompson for a date17-Mar-25, 8:16 AM | ReutersThe actress said the bizarre incident happened in 1998 as she and actor Kenneth Branagh were finalizing their divorce.
James Corden and the hit show that nearly never was17-Mar-24, 4:17 PM | By Frankie Taggart, Agence France-PresseSince taking over 'The Late Late Show' in March 2015, Corden has redefined the late-night talk show format.
Sofia Andres looks forward to banner year with lead roles in films and on TV17-Mar-24, 3:56 PM | By Edwin P. Sallan, InterAksyon.comThis could be the breakout year this 18-year-old beauty seemed poised to have as early as three years ago.
Charlize Theron joins 'Fast and Furious' series with 'badass jet'17-Mar-24, 8:04 AM | ReutersThe actress said she was 'very upset when she found out that she wasn't going to drive any cars' in 'The Fate of the Furious.'
Bob Dylan says Amy Winehouse was last 'individualist'17-Mar-24, 7:23 AM | Agence France-PresseThe Nobel laureate praised the late English soul singer in a lengthy dialogue with writer Bill Flanagan posted on Dylan's website.
'Power Rangers' movie gets savage early reviews17-Mar-23, 7:51 PM | By Frankie Taggart, Agence France-Presse'The most flabbergastingly misconceived reboot of recent years.' 'Ugly and incomprehensible.' 'Lame, safe pandering.'
Kylie Padilla says she's more in love than ever with Aljur Abrenica17-Mar-23, 6:50 PM | By Jill Tan Radovan, InterAksyon.comThe actress, now five months pregnant, is elated that her partner is 'really making an effort' to be there for her and their coming baby.
Julia Barretto, Joshua Garcia look forward to more projects together17-Mar-23, 7:13 AM | By Edwin P. Sallan, InterAksyon.comThe winsome pair from 'Vince & Kath & James' are now the latest brand ambassadors of a leading fastfood chain.
'Power Rangers' creator Haim Saban hits out at Trump17-Mar-23, 6:47 AM | Agence France-PresseThe Israeli-American billionaire, 62, was receiving a star on the Hollywood Walk of Fame when his thoughts turned to Trump's immigration policies.
Kuwait bans 'Beauty and the Beast' after uncut Malaysia release17-Mar-22, 5:09 PM | Agence France-PresseThe privately owned Kuwait National Cinema Company suspended the film's exhibition on Monday, four days after it opened in the Muslim state.
Luis Manzano says he sees himself marrying Jessy Mendiola17-Mar-22, 1:19 PM | By Jill Tan Radovan, InterAksyon.com'I have my fingers crossed. It's part of my prayers at night. Hopefully, [our] love story ends here.'
Wyclef Jean handcuffed by LA police in 'mistaken identity'17-Mar-22, 10:53 AM | Agence France-PresseThe Grammy-winning ex-member of the Fugees said he 'was treated like a criminal until other police showed up and pointed out they had wrong person.'
Disney stole 'Zootopia,' writer claims in U.S. lawsuit17-Mar-22, 10:29 AM | By Jonathan Stempel, Reuters'Total Recall' screenwriter Gary Goldman said Disney replicated the themes, settings, plot, characters and dialogue, as well as the title, of his 'Zootopia' concept.